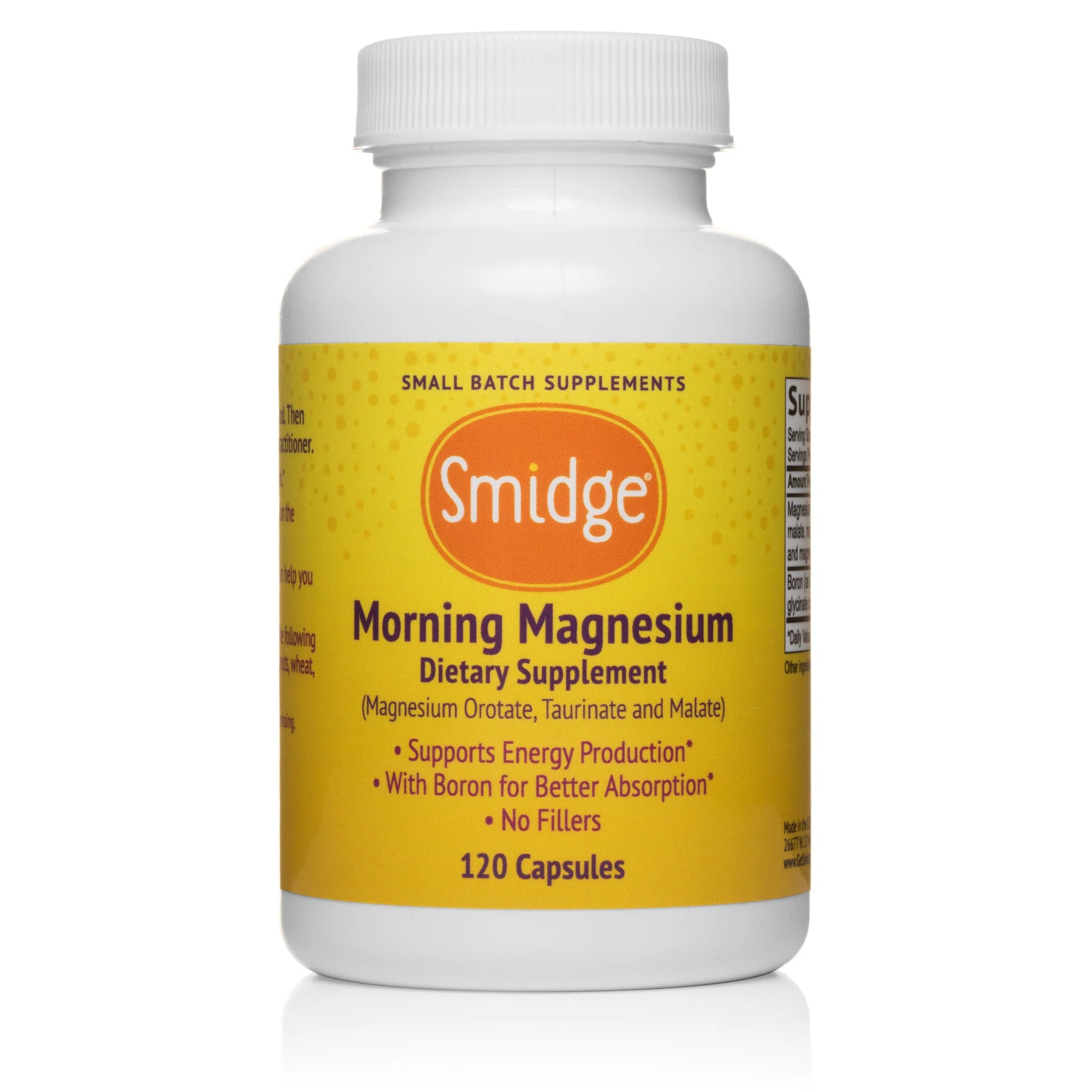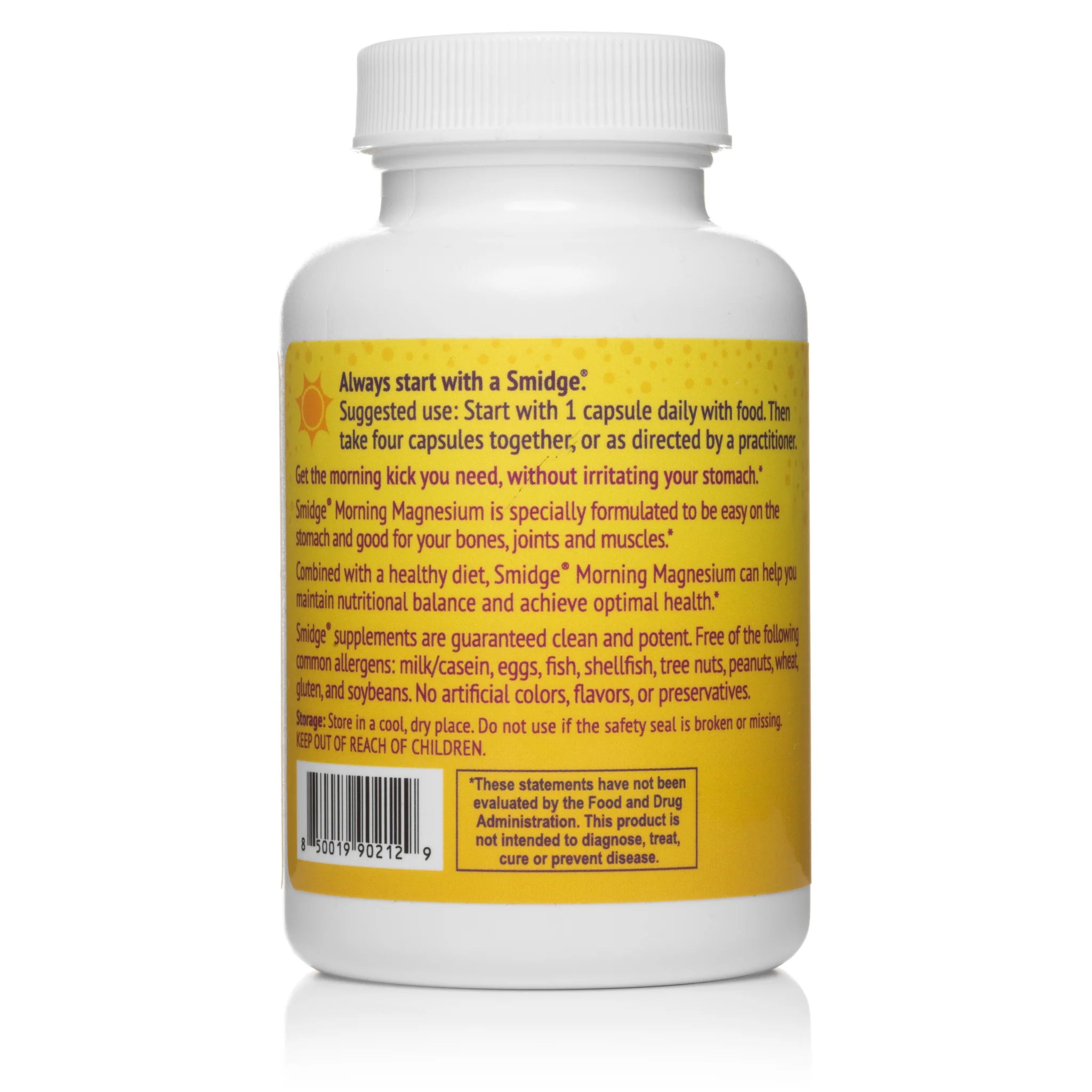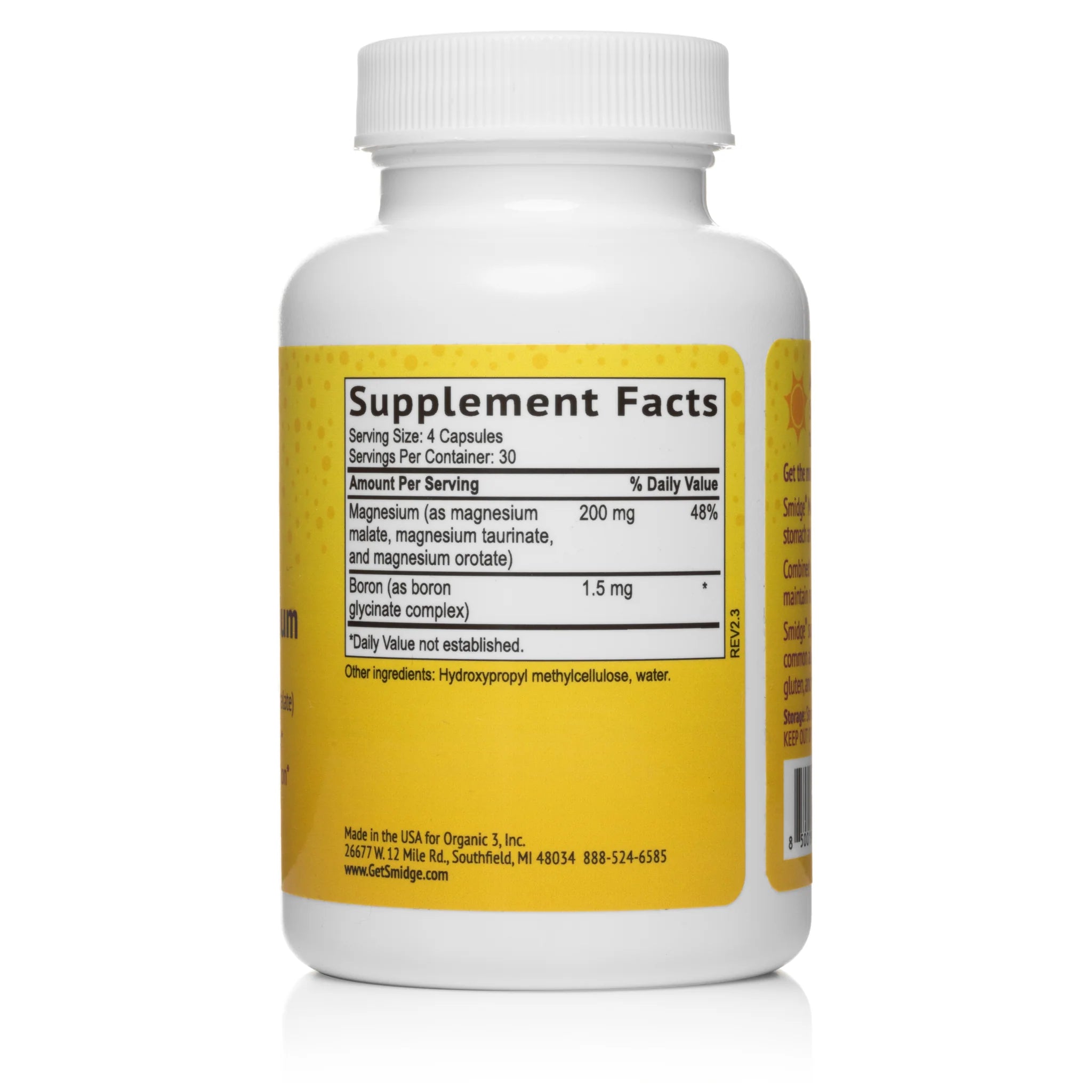 Smidge Morning Magnesium Capsules
120 vegetarian capsules
Sale price

$54.85
Regular price
(/)
---
Smidge® Morning Magnesium (formerly Wake Up Maggie™)
Smidge Morning Magnesium offers a balanced blend, encapsulating three natural forms of magnesium without the addition of fillers, preservatives, or additives.
Designed to infuse your body with the necessary magnesium levels, it's a morning boost that rivals the energy from your daily coffee — and all that without any jitters.
What differentiates our morning magnesium supplement?
To avoid the digestive concerns linked to consuming excessive amounts of one magnesium form, we've thoughtfully combined three gentle and high-quality magnesium types — malate, orotate, and taurinate. These are meticulously mixed in small batches and equal measures. We've consciously omitted magnesium citrate, a type found in many commercial supplements that's known to unsettle sensitive stomachs.
Further enhancing this blend is a hint of the mineral boron, working synergistically to optimize magnesium absorption and fortify bone health.* Additionally, the inclusion of taurine in magnesium taurinate ensures peak absorption rates.
You'll appreciate that our meticulously crafted magnesium formula remains free from common allergens.
Consider Morning Magnesium if you aim to:
- Start the day fueled with enhanced energy*
- Foster cardiovascular resilience, mood balance, and improved circulation*
- Maintain digestive consistency and ease*
- Offer solace to strained muscles*
- Address mild headache concerns*
Each dose presents 200 mg of magnesium paired with 1.5 mg of boron.
The package includes 120 capsules, precisely meeting a month's requirement.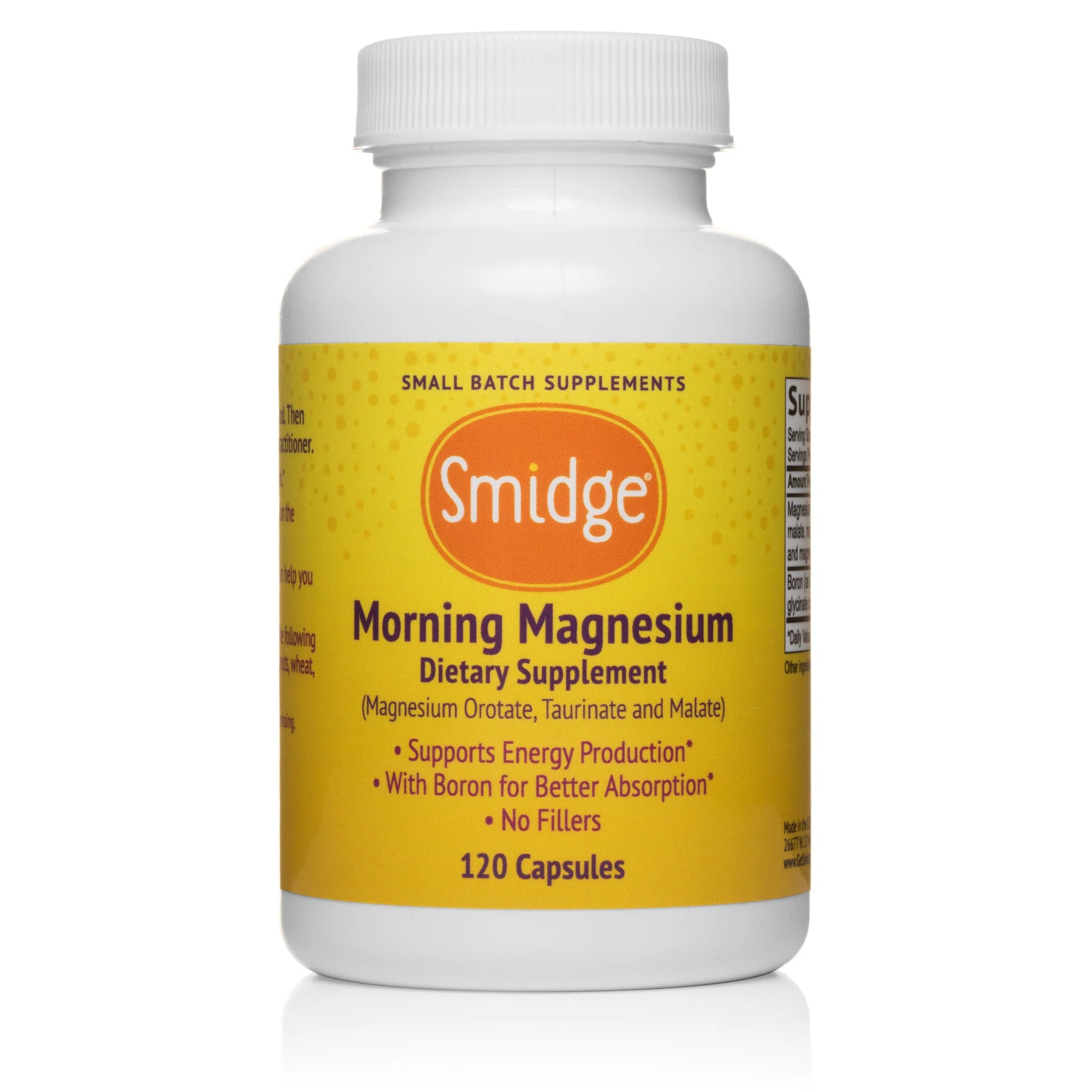 Smidge Morning Magnesium Capsules
Sale price$54.85
Regular price
Choose options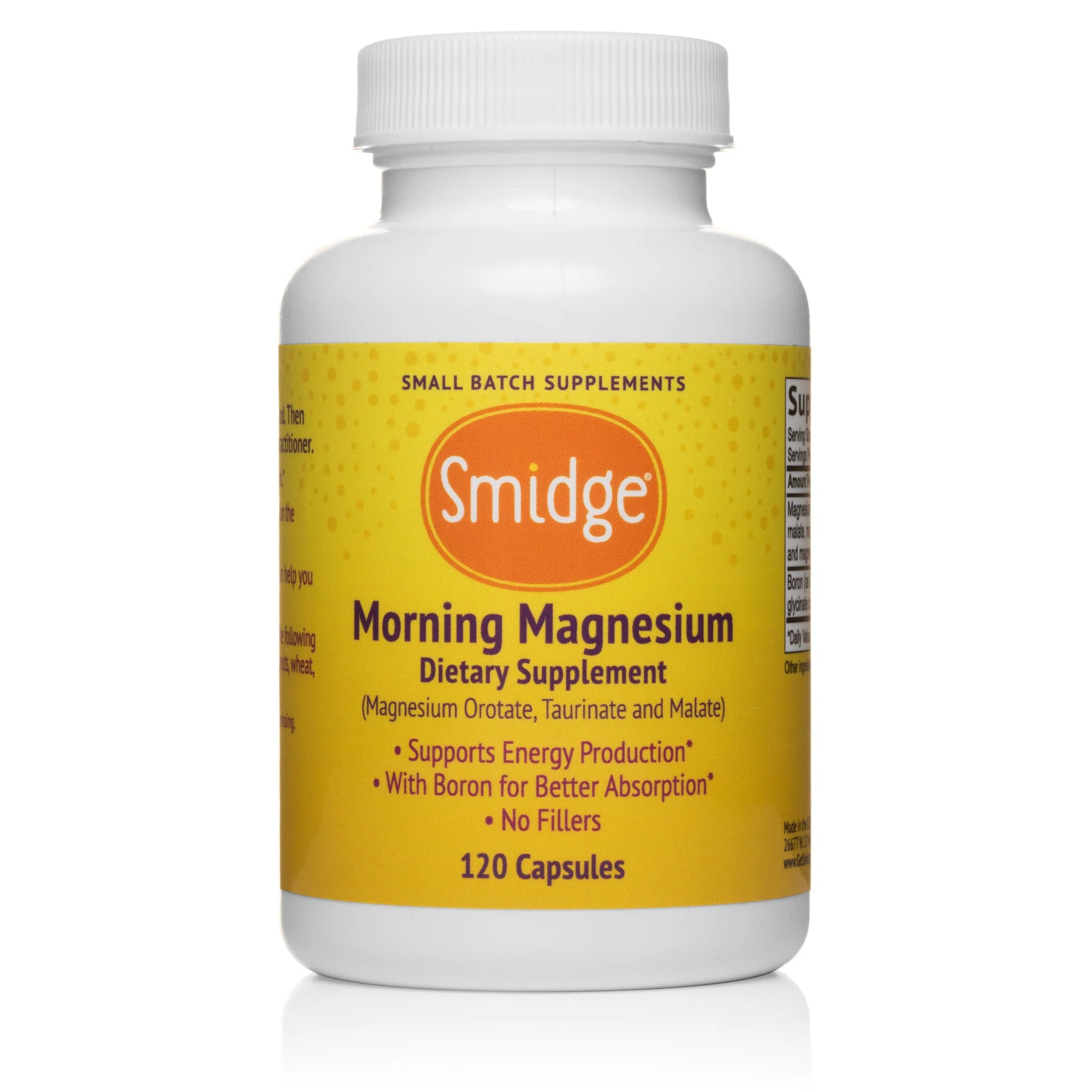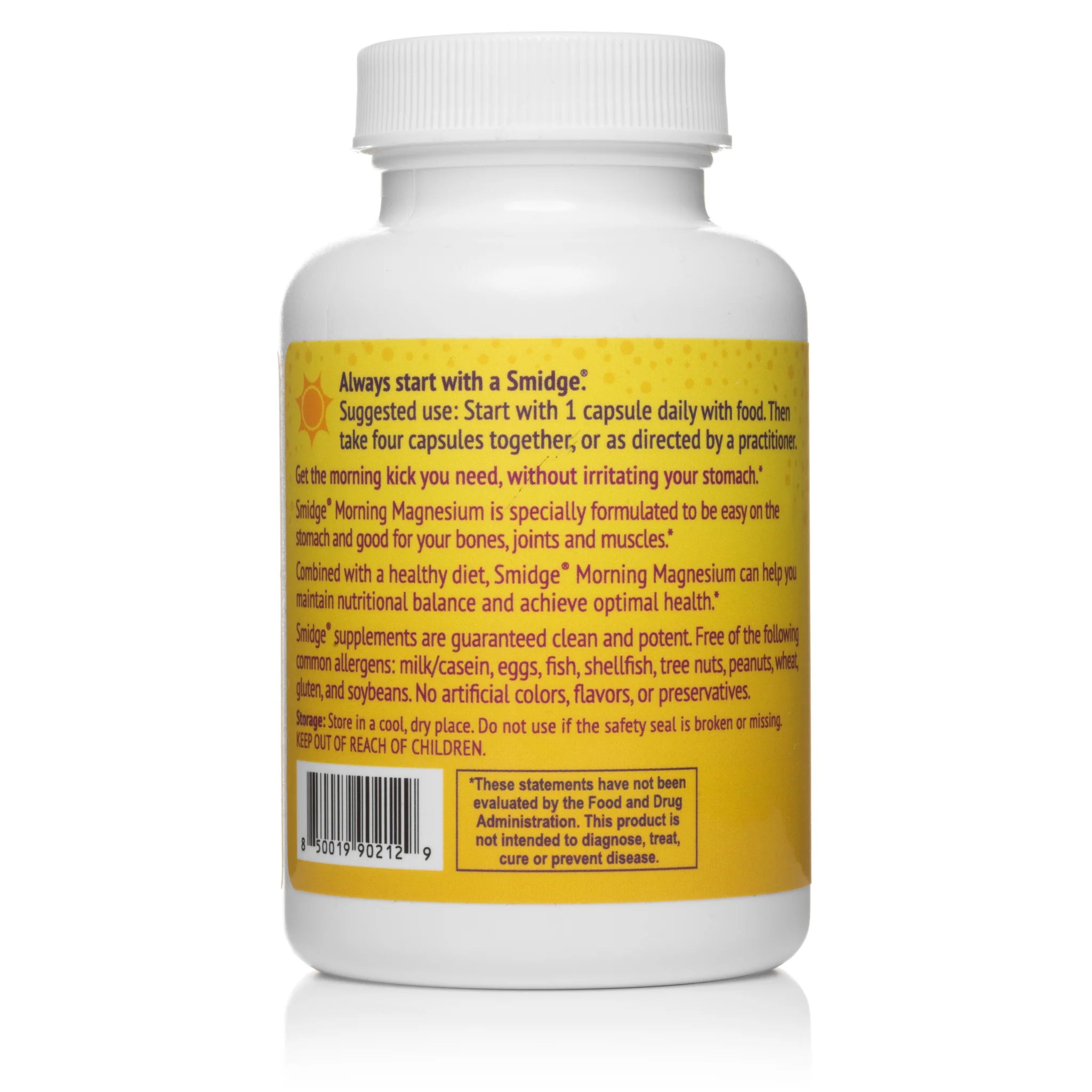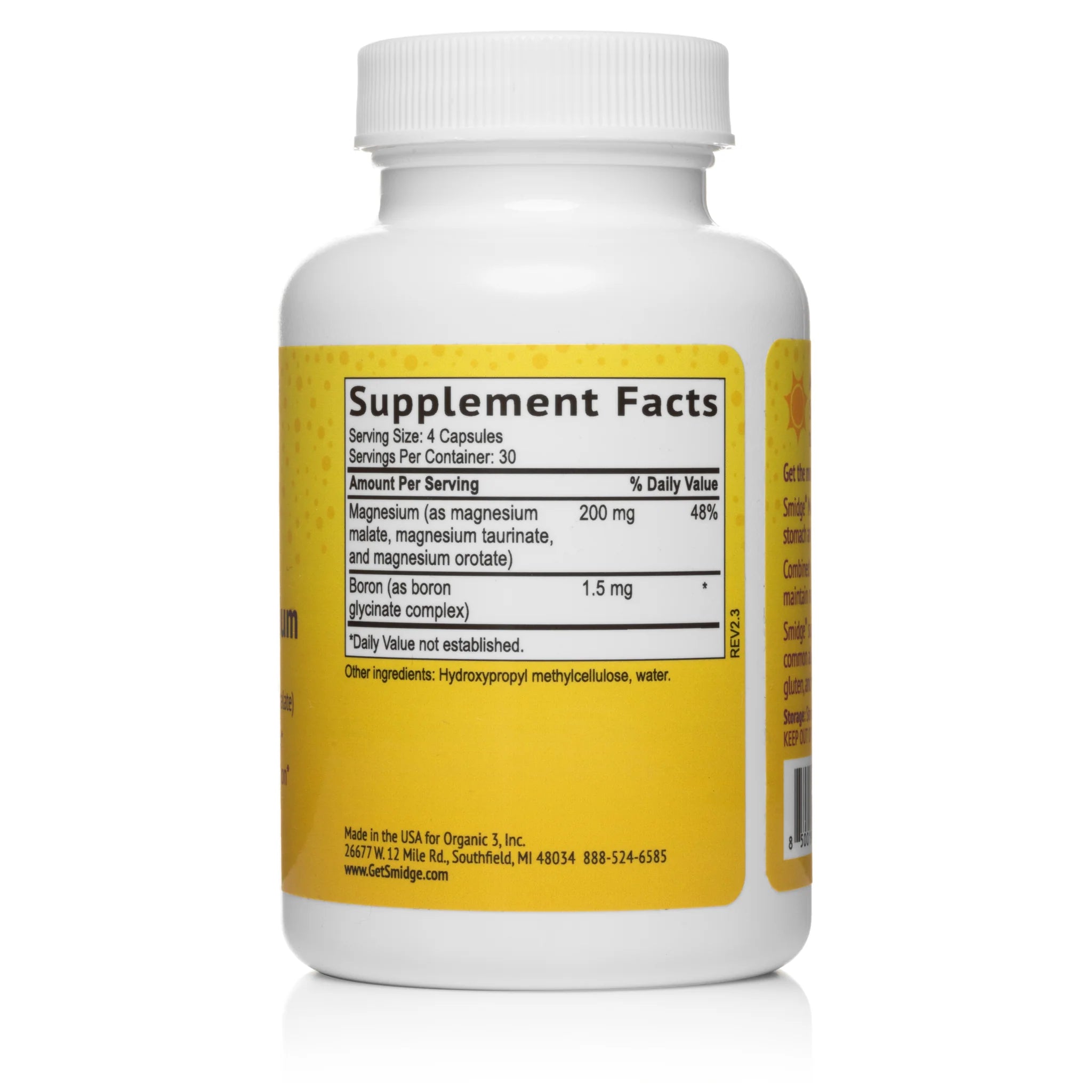 Magnesium is an amazing mineral that's essential for the proper functioning of bones, nerves, muscles and digestion, among many other benefits.* You can find magnesium in food, or in morning supplements, like this one. We've included the following three forms of magnesium in Smidge® Morning Magnesium:
Magnesium malate is a compound of magnesium and malic acid, a nutrient that helps transform food into adenosine triphosphate (ATP), the body's energy source. Increased magnesium and malic acid can help muscles feel energized and relaxed.
Magnesium orotate is salt-combining magnesium with orotic acid. Orotates are magnificent at transporting minerals, delivering them precisely to the membrane within each cell. That's why it's incredibly well-absorbed, with very little of the magnesium ion wasted. Magnesium orotate supports DNA synthesis and tissues.* It also supports the elasticity of blood vessels, which is essential for heart health.* And, studies show this type of magnesium may improve athletic performance.
Magnesium taurinate is a compound containing magnesium and the amino acid taurine (your body uses taurine to transport magnesium into the body and maximize absorption). Magnesium taurinate supports cognitive function and heart health.* It also fuels muscles and may help calm nerves.
Boron is a trace mineral that plays a crucial role in the absorption of calcium and magnesium. It's primarily known for supporting bone density.* And it's found naturally in leafy green vegetables like spinach, and in grains, prunes, raisins, non-citrus fruits and nuts.
Hydroxypropyl methylcellulose (HPMC), water. Our vegetable (vegan) capsules consist of only two ingredients: HPMC and purified water. HPMC is derived from vegetable cellulose of either pine or poplar. 100% natural, these capsules contain no preservatives, no gelatin, wheat, animal by-products or starch.
Need help?
Frequently Asked Questions
Because your body likely needs more, as magnesium is not manufactured in the body and therefore the retention is extremely low. Studies suggest that about 48% of the U.S. population get less than the recommended daily amount of magnesium. Also, low magnesium intake is linked to chronic inflammation, one of the drivers of premature aging, being overweight and ongoing health conditions.* Nuts, leafy greens, beans, seeds, avocado (and, yes, unprocessed dark chocolate!) are all high in this mineral. But even when we eat these magnesium-rich foods, because of a depletion of soil minerals, they still can provide us with less than we need. So supplementation has become key to restoring magnesium levels.
Magnesium is not manufactured in the body, but we need it for virtually every system in the body to work smoothly. So many opt to get it from food or clean supplements. Each person burns magnesium at different rates. Factors that contribute to low magnesium retention include: age (the older you are, the less you retain), stress, exposure to aluminum and the body excreting magnesium through urine and sweat glands.
Generally speaking, it's best to take Morning Magnesium with food. You may want to avoid taking it at the same time as other mineral supplements, as they may compete for absorption.
Smidge® Morning Magnesium should not interfere with most supplements. You may want to avoid taking it with other mineral supplements back-to-back, as they may compete for absorption. Always check with a qualified medical professional before starting any new supplement, especially if you're taking medication.
Definitely! Morning Magnesium and Evening Magnesium are designed to work together, so they complement each other beautifully. That's why many of our customers take one upon waking and one before their sweet dreams. This way, you can enjoy five different types of magnesium that work in synergy to supply your body throughout your precious 24-hour cycles — the optimal way to manage your magnesium levels and experience the full benefits.
Smidge® Morning Magnesium is sourced and produced in the U.S.!
Once you start looking into magnesium supplementation, you'll discover there are nearly a dozen different forms. An ion, magnesium binds with a variety of other minerals and molecules to create salts or chelates. Many people take only one kind of magnesium. But when they try to take larger amounts, it can cause digestive discomfort, like loose bowels.

That's why we created Morning Magnesium. Our customers had been asking for a magnesium supplement that gave them different forms of magnesium, and that didn't come with any downsides. Each form of magnesium in this blend has distinct benefits. And when used in combination with Smidge® Evening Magnesium, you get five types of premium magnesium to fuel your body throughout your day.
It's pretty well known that magnesium helps with routine muscle cramps.* Epsom salts, rich in magnesium, are a tried-and-true solution for aching limbs.

But what's lesser known is how malic acid can help with generally sore muscles. Here's why:

Like magnesium, malic acid helps the body produce adenosine triphosphate (ATP) – both when there's oxygen around and when there isn't. 

But malic acid levels also seem to trigger when the body switches over to anaerobic (without oxygen) energy production. When malic acid levels are low, the body switches over to anaerobic energy production much sooner. And during the anaerobic phase, the body tends to experience cramping and soreness. 

So simply by getting more magnesium and malic acid, you can help your muscles relax and stay energized instead of crampy and tired.